Submit an application for the ACMS 2021 Annual Awards.
Outstanding Clinical Practice Award Application
Health and Wellness Advocacy Award Application
---
In an effort to recognize excellent medical care in the community, the Alachua County Medical Society (ACMS) has established two awards:
Health and Wellness Advocacy Award and Outstanding Clinical Practice Award
The recipients are recognized at the ACMS Annual Meeting in May of each year. "We established this award program to celebrate some examples of the superb health care that we have in our community", said ACMS President David E. Winchester, MD. "As an organization representing physicians in our county we felt there was a need for this kind of recognition and that we possessed the knowledge and expertise to make it happen."
2019 Health and Wellness Advocacy Award – Nancy Hardt, MD
Health and Wellness Advocacy Award recognizes an individual or group who champions the wellbeing and general health of the community.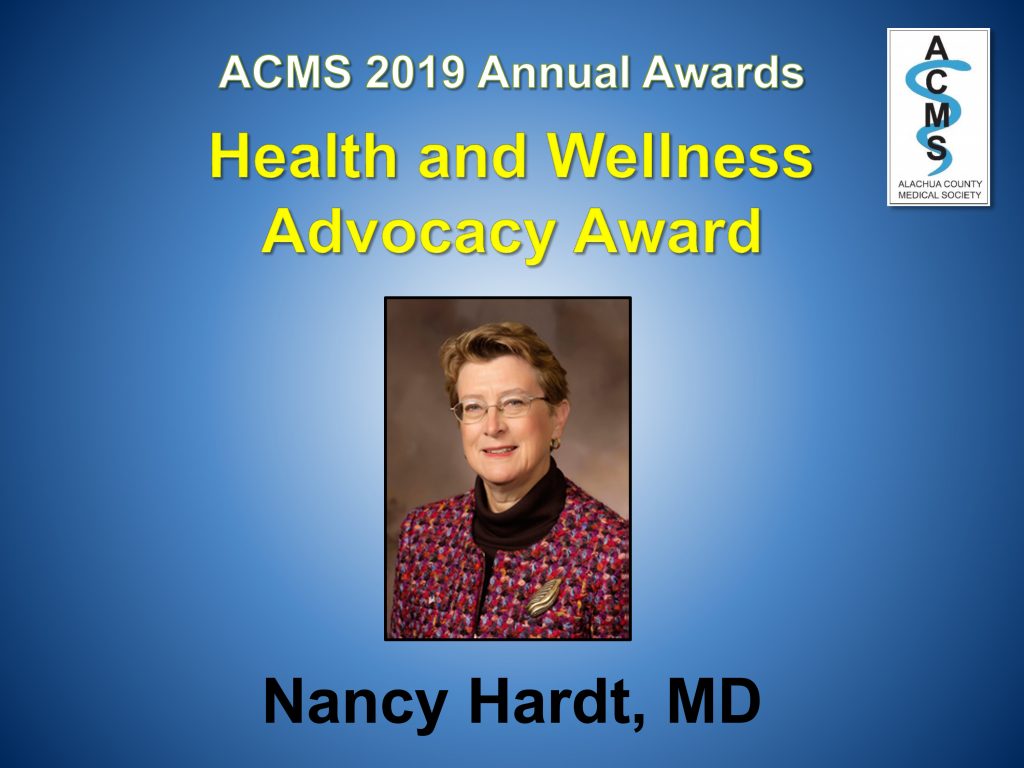 Dr. Nancy S. Hardt
Nancy Hardt, M.D. is Professor Emerita of Pathology and Obstetrics and Gynecology at the University of Florida College of Medicine. Most recently she directed the Health Disparities and Service Learning Programs, including the Mobile Outreach Clinic. She co-founded the undergraduate minor in Health Disparities in Society which is now the most popular minor in the College of Liberal Arts and Sciences. She learned policy as a Robert Wood Johnson Health Policy Fellow during which time she worked as a health legislative advisor for Senator Jeff Bingaman of New Mexico and Speaker of the House, Nancy Pelosi.
In retirement, she collaborates with community leaders to address local health equity issues, specifically early childhood brain development as an important social determinant of adult health. A health report card for Alachua County was developed by Dr. Hardt, and key indicators were mapped, resulting in numerous community actions to respond to highlighted health inequities. She spearheaded the University response, the Mobile Outreach Clinic, in which an interprofessional team meets the needs of the underserved in neighborhoods throughout Alachua County. In seven years of operation, more than 28,000 free health care visits were provided by community health professionals, faculty, and student volunteers. This effort resulted in a significant reduction in premature births and documented cases of child abuse and neglect.
She co-founded the innovative Intimate Partner Violence Clinic in conjunction with the College of Law, in which law and medical students learn together how best to meet the needs of victims. This clinic has over 99% success obtaining orders of protection on behalf of their clients, more than twice the rate of success in this community. The law-medicine partnership led to formation of Peace4Gainesville which seeks to reduce trauma and enhance resilience for children and adults. These outreach efforts have resulted in recognition by the Gainesville Sun 2012 (Sprit of Gainesville), Blue Foundation 2013 (Sapphire Award), Loyola University 2014 (Damen Award), ESRI the International GIS Software distributor 2015 (Service Award), Girl Scouts of Gateway Council 2016 (Women who make a Difference), Loyola Stritch School of Medicine 2017 (Alumna of the Year in Community Service), and UF Pediatrics in Jacksonville 2018 (Whitworth Award). She was invited to speak at the United Nations High Level Forum on the Culture of Peace in September 2017.
2019 Outstanding Clinical Practice Award – Florida Heart and Lung Institute
Outstanding Clinical Practice Award recognizes a medical practice or service line for providing exemplary patient care.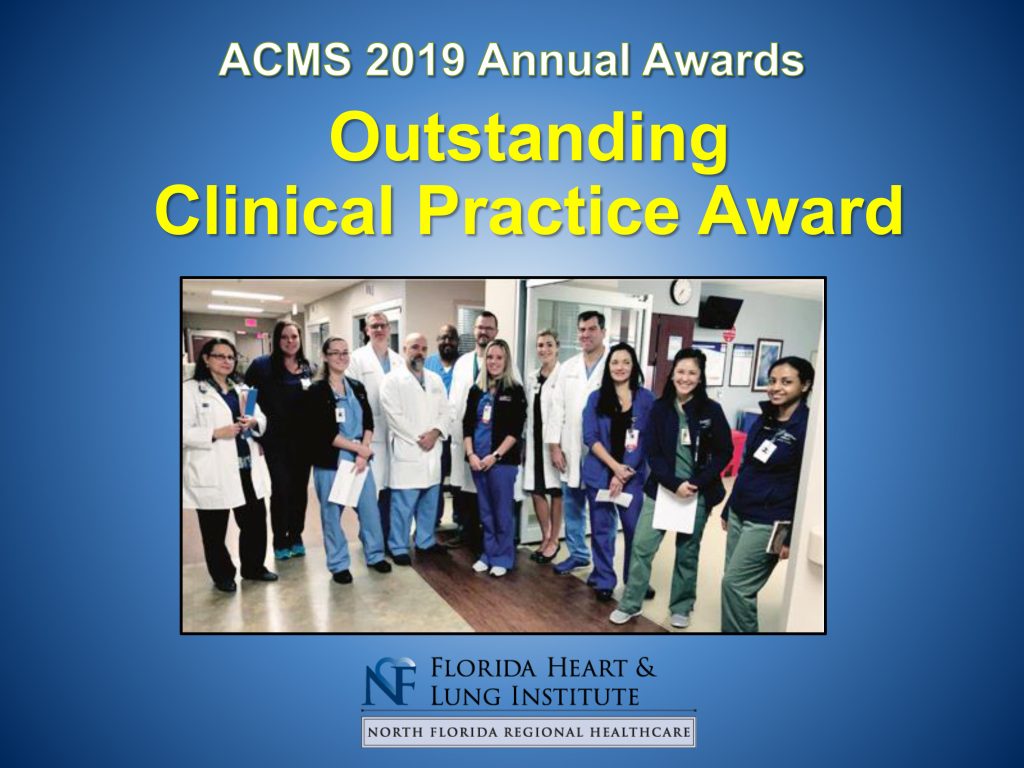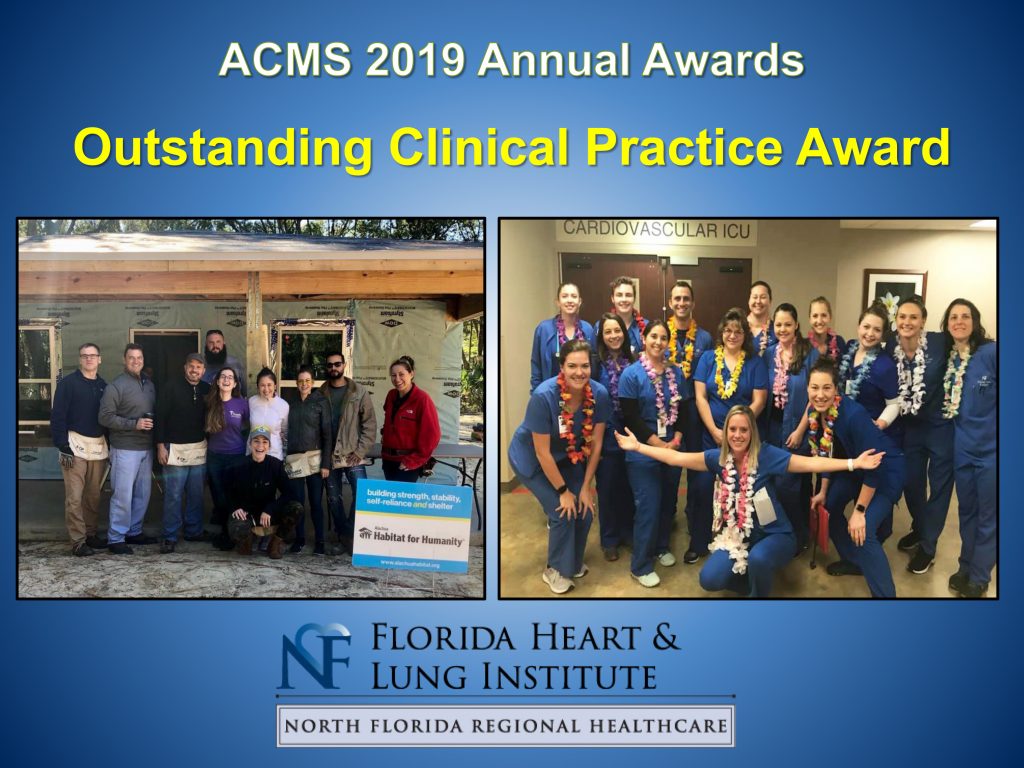 ---