August 4-6, 2017
Loews Sapphire Falls Resort
Universal Orlando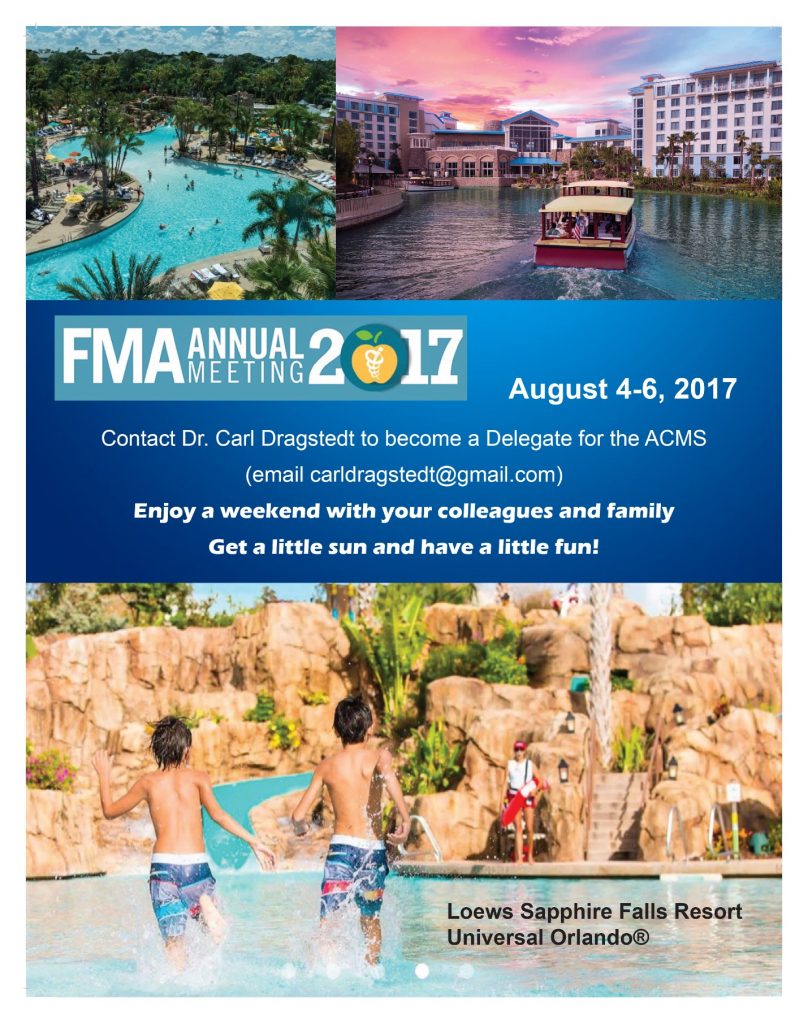 The Florida Medical Association (FMA) House of Delegates is the legislative and business body of the FMA. Its members are the officers of the FMA, the elected members of the Board of Governors, and the delegates officially elected by the component societies and the FMA Alliance. This year, the House of Delegates is meeting at Universal Studios at the Loews Sapphire Falls Resort.
The House of Delegates sets policy for the FMA by acting on recommendations from the Board of Governors and resolutions presented by component county medical societies such as the Alachua County Medical Society. Delegates elect Officers, Board members and AMA Delegates. Alachua County is entitled to have 27 Delegates representing us this year, the second largest physician representation in the state by county.
Below are a few of the resolutions voted on by the House of Delegates in 2016:
Physician Bill of Rights Unfettered Patient Care FMA-AMA Publication
Itinerant Surgery
Human Trafficking Continuing Medical Education as Alternative to the Current Mandatory
Domestic Violence CME Requirement
Collective Bargaining/Negotiations
Standing Retail Clinics/Clinic Responsibilities and Access to Medical Records
Promoting the Successful Clinical Outcome of Primary Amebic Meningoencephalitis
Advocacy for Metabolic Bariatric Surgery for Severely Obese Patients Suffering With Type 2 Diabetes
Call for a Moratorium on Maintenance of Certification
Physician Payment for Patient Phone Calls
Ensuring Safety of Student Athletes
De-linkage of Medical Staff Privileges from Hospital Employment Contracts
Licensure and Oversight of Ultrasound Sonographers
Florida Physician Exemption from Jury Duty
Ambulatory Surgical Centers
End the Federal Policy of Imposing Maintenance of Certification Mandates upon Physicians through
Medicare Payment Models, Quality Measures, and Future Alternative Payment Systems
Protecting the Right of Privacy and Access for the Medicare Patient and Preserving
Solo/Small Group Practices
Rescission of MACRA Legislation
Principles for Health Care Reform
Insourcing the Outsourced Health Care Insurance Call Centers
Contact Dr. Carl Dragstedt, ACMS Secretary/Treasurer to sign up (carldragstedt@gmail.com). The commitment includes travel to Orlando for two nights August 4-6, with discounted hotel rates and passes to Universal Studios. You need to be a member of the ACMS and the FMA to participate.
Join us in Orlando as a Delegate for the Alachua County Medical Society and be a part of shaping the future of medicine in the State of Florida.